Radiology
A chest X-ray is generally the first investigation.
The PA chest X-ray below shows widening of the upper mediastinum (#1) consistent with lymphadenopathy.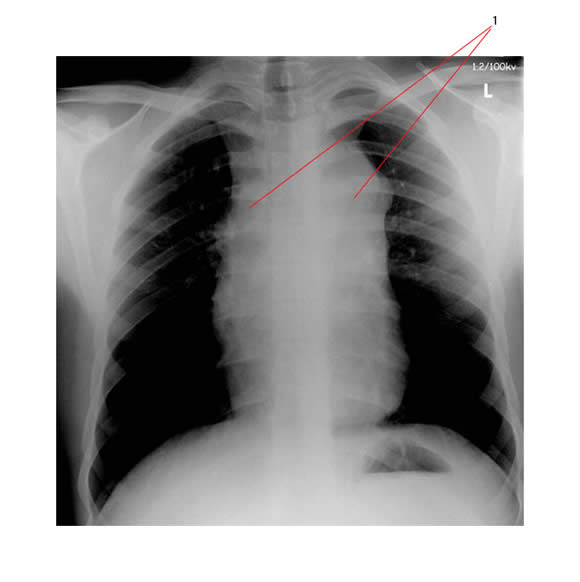 The lateral view of the same patient shows loss of the retro-sternal airspace (#2) which is consistent with anterior mediastinal adenopathy.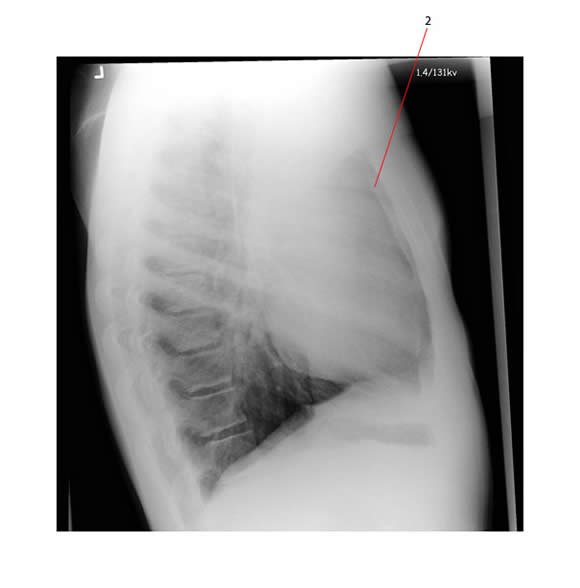 This patient had Hodgkin lymphoma associated with anterior mediastinal disease.
CT scans give important information, but in many centers now an initial CT-PET scan has replaced CT alone. CT-PET scans are an essential part of initial staging and monitoring response to therapy.
Below is the CT-PET of the same patient whose CXR showed the anterior mediastinal mass:
Structures seen:
1: Normal brain
2: Mediastinal adenopathy secondary to Hodgkin Lymphoma
3: Normal heart
4: Normal bladder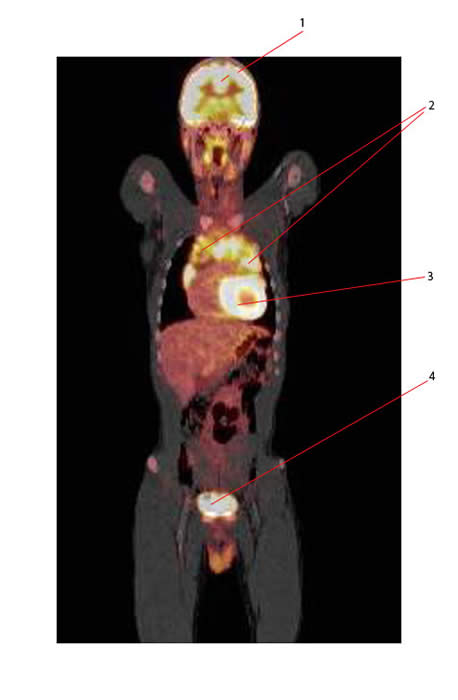 Radiological tools for assessing Hodgkin lymphoma:
Description and Function

Chest X-ray

Posterioanterior (PA) and lateral projections required

Important in determining the bulk of the mediastinal lymphadenopathy

Traditionally this means calculating the ratio of maximum diameter of the mediastinal mass to maximum intrathoracic diameter:

if the ratio is greater than 33% it is considered a bulky mass
this ratio is also associated with poor a prognosis

CT

Evaluates initial extent of disease

Chest scan:

delineates status of intrathoracic lymph nodes, lung parenchyma, pericardium, pleural effusions, chest wall and mediastinal mass.

Abdominal and pelvic scans:

hepatomegaly and splenomegaly
shows any enlarged lymph nodes in region

FDG-PET

Important investigation to assess extent of initial disease and monitor response to therapy :

baseline PET taken for comparison with PET scan obtained for monitoring of response during therapy
if PET scans are persistently positive, it indicates resistant disease.

Significant advantages over gallium.

quick and convenient procedure (1 day)
higher resolution
better dosimetry
detects more disease sites above and below diaphragm

Gallium-67 scan

Identify sites of involvement (especially head and neck)

Gallium uptake in areas of disease.
useful for determining if residual tumor mass is present after chemotherapy

Limitations1:

not as sensitive as PET
difficult to distinguish lymphoma from other inflammatory lesions
3 day procedure

MRI

Very rarely used in the evaluation of Hodgkin lymphoma.

Chest scan:

delineate hilar adenopathy, mediastinal mass and pericardial extension

Abdomen scan:

delineate unfilled bowel and vessels for retroperitoneal, portal hepatic and celiac adenopathy