Adenopathy
Peripheral Adenopathy:
Palpable painless lymphadenopathy is a common finding at presentation:
Cervical and or supraclavicular lymph nodes involved in 60 - 80% of cases (in 80% of these patients there will be mediastinal involvement).
Axilla, inguinal region and retroperitoneum also frequently involved.
Involved nodes are usually rubbery and discrete.
Sometimes involved lymph nodes are painful after drinking alcohol.
Differential diagnosis of lymphadenopathy
Mediastinal Adenopathy:
Mediastinal masses are common in Hodgkin lymphoma
A bulky mediastinal mass is generally defined as one where the maximum width is equal to or greater than one third of the internal transverse diameter of the thorax at the level of the T5/6 interspace.
Bulky disease is associated with an increased risk of relapse.
Differential diagnosis of mediastinal adenopathy
Below is an axial CT slice showing a mediastinal mass from HL prior to FDG fusion: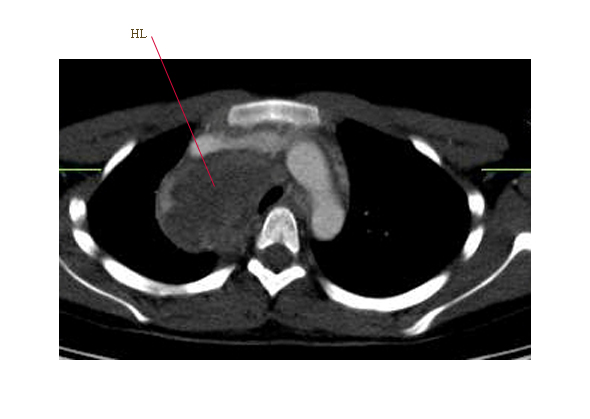 Below is the same mediastinal mass showing intense FDG avidity after fusion: