Juvenile Pilocytic Astrocytoma
Macroscopic Features:
Solid, well-circumscribed mass.
Highly vascular, particularly when found in the supratentorial region.
High-degree of vascularity makes these tumors vulnerable to spontaneous hemorrhage.
Formation of cysts in one-third of cases. The cyst is clear and filled with an amber-colored fluid. These cysts are not unique to this form of astrocytoma and are also observed in pleomomorphic xanthoastrocytomas.
Microscopic Features:
Biphasic appearance with dense fibrillary tissue separated by loose, spongy, microcystic areas.
Infiltration into surrounding parenchyma.
Hypocellular lesions composed of a characteristic cell type.
Tumor cells are elongated, bipolar and have thin, "hair-like" cell processes.
Cell processes contain compact bundles of glial filaments
Rosenthal fibers are a distinguishing feature of pilocytic astrocytomas and are usually found in the dense fibrillary areas. They are masses of degenerated glial filaments which are glial fibrillary acidic protein positive and are common to indolent neoplasms.
Mitosis and necrosis are rarely observed.
While nuclear atypia, microvascular proliferation, mitosis, and necrosis all indicate neoplastic progression in fibrillary astrocytomas, they do not have the same prognostic implication in pilocytic astrocytomas.
Other low grade histological subtypes are presented in the following table. While these tumors are less common in children than the pilocytic variety, they continue to be found in the pediatric population.
Pathological Characteristics of Low-Grade Astrocytomas:
Histological Class

Characteristics

Protoplasmic

Usually cortical
Abundant cytoplasm

Fibrillary

Most common histological variant
Diffuse or circumscribed
Well-differentiated

Pilocytic

Pilocytes
Hair-like glial processes
Well-differentiated

Gemistocytic

Cerebral hemispheres
Large, round cells
Eosinophilic cytoplasm

Pilomyxoid

More aggressive subset of JPA's
Previously identified as JPA's
Primarily in the hypothalamic region

Peripheral hemispheric lesions
Often involve leptomeninges
More aggressive histology
Rare
Unique to children
Genetic Analysis
There are conflicting reports as to the genetic contributions to the development of pilocytic astrocytomas. Most results indicate that they differ from the fibrillary subtype as they lack the p53 mutation. There is also the absence of allelic loss on chromosomes 10 and 19q, as well as a lack of the amplification of the epidermal growth factor gene EGFR.
Conversely, there has been evidence of 17q deletion in a portion of pilocytic astrocytomas. This is not supported by all studies.
A fraction of supratentorial and infratentorial pilocytic astrocytomas may be related to NF-1. These variations include the allelic loss of 17q in NF-1 region, suggesting the existence of a tumor suppressor gene on the long arm of chromosome 17. NF-1 gene transcripts are often over-expressed in pilocytic astrocytomas. [P5]
Examples
The slide below shows a low grade fibrillary astrocytoma with neoplastic astrocytes in a fibrillary background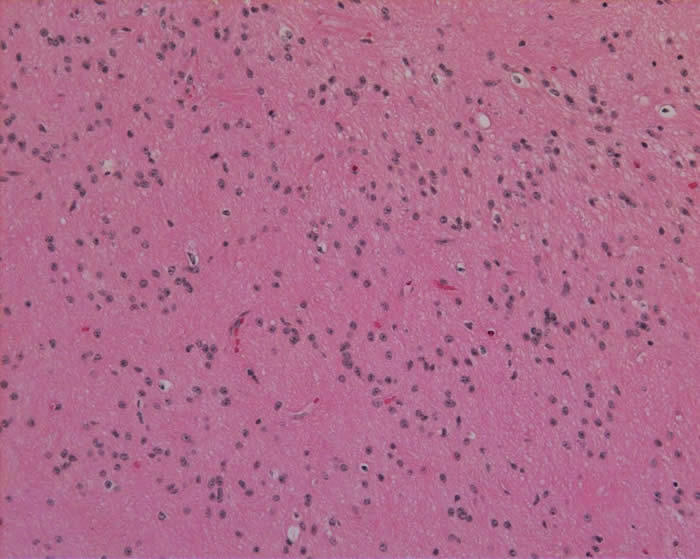 The slide below shows pilocytic astrocytoma with cystic areas and more solid fibrillary areas.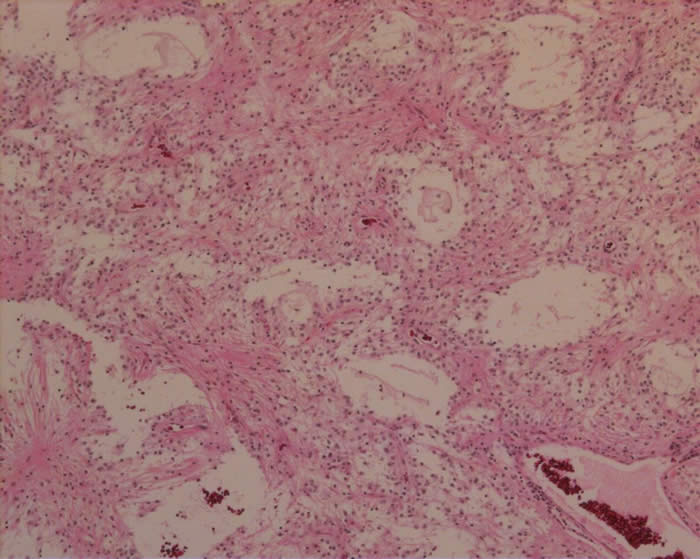 The slide below shows Rosenthal fibers in a pilocytc astrocytoma.