Ependymoma
Pathology
Tumor histology
There are two proposed cellular origins for ependymal tumors. These tumors may develop from:
Ependymal central neuroepithelial cells during embryogenesis
Malignant degeneration of mature ependymal cells in the ventricular linings of subependymal zones of cellular proliferation.
Mature ependymal cells involved. Perivascular pseudorosettes and true ependymal rosettes are characteristic.
Glial features lead to fibrillary appearance of the tumor.
Glial fibrillary acidic protein (GFAP) expression is common.
In general, tumor cells are polygonal with large nuclei, clumped chromatin, small but distinct nucleoli and cytoplasm which extend into processes.
Roughly one third of this tumors are high grade (anaplastic ependymoma):
Brisk mitotic activity and vascular proliferation seen
Associated with a worse prognosis
Summary of Histological Features of Ependymomas:
Location

Arise within or adjacent to the ependymal lining of the ventricular system or central canal of the spinal cord.
Infratentorial ependymomas commonest in children.
Spinal cord ependymomas usually occur in adults.
Supratentorial ependymomas can occur in pediatric as well as adult patients

Macroscopic Appearance

Well-demarcated
Soft grey-red tumors
May be extensively cystic
Calcifications

Microscopic Appearance

Well-delineated
Moderately cellular tumor
Polygonal cells
Nuclei are generally uniform, moderately hyperchromatic and vary from round to oval
Nucleoli are small but distinct.
Cilia and blepharoblasts.
Perivascular pseudorosettes.
True ependymal rosettes
Anaplastic features (little consensus on definition of reliable histopathological indicators of anaplasia).
High cellularity, brisk mitotic activity, vascular proliferation and loss of perivascular rosettes (image 1)

Characteristic diagnostic feature
1. Anaplasia X200 - Anaplastic ependymoma with brisk mitotic activity and vascular proliferation.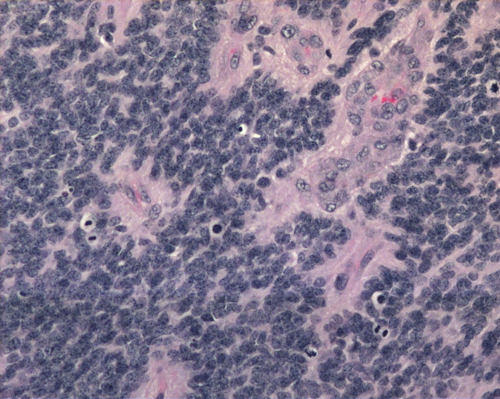 2. Pseudorosettes X100 - Ependymoma with typical pseudorosettes characterized by nuclear free spaces around blood vessels.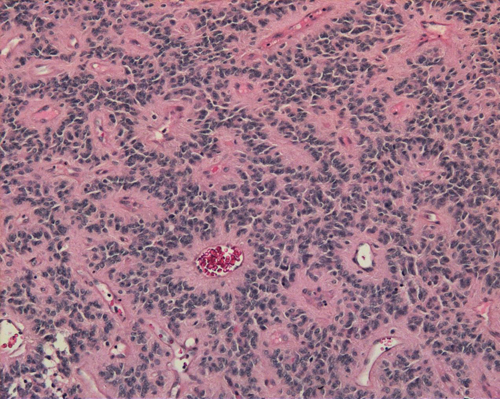 3. Ependymal rosettes X200 - Ependymal rosettes.