Bone Scan
Used to stage Ewing sarcoma (ES) - there is increased uptake in the primary tumor and distant skeletal metastatic disease.
The bone scan below shows significantly increased uptake in the left superior pubic ramus (#1 points to this area) consistent with metastatic ES. This child had a large pelvic primary tumor causing ureteric obstruction and bilateral hydronephrosis (#2 points to the dilated ureters) on this study.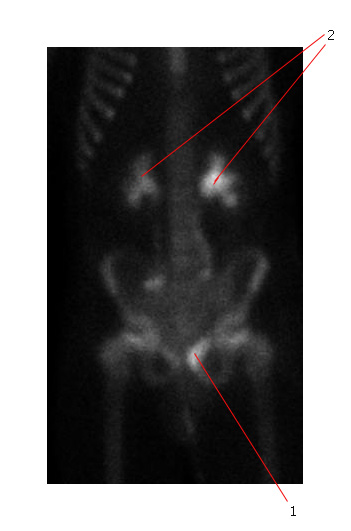 PET-CT scan
PET-CT is a very sensitive study for ES and allows accurate staging.
There is uptake of a radioactive glucose analogue 18-fluoro-2-deoxyglucose (FDG) by rapidly proliferating tumor cells undergoing anaerobic glycolysis.
The PET scan below shows avid FDG uptake in the femoral primary (A) on transverse, sagittal and coronal cuts with no evidence of distant metastatic disease. This is the same tumor (A) shown in plain films and MR scan.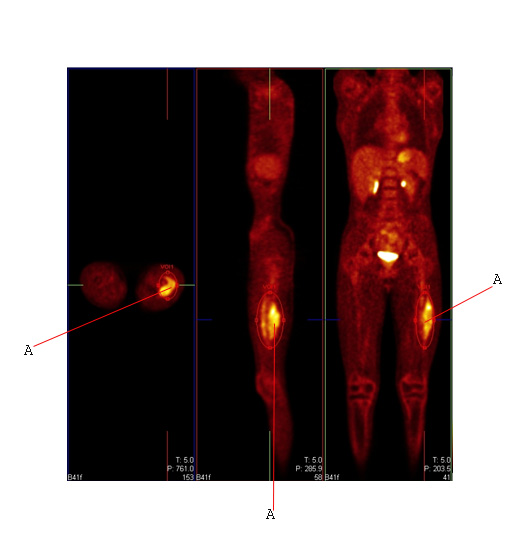 The PET scan below shows FDG avid disease in a ES of the chest wall (#1). #2 points to normal kidneys.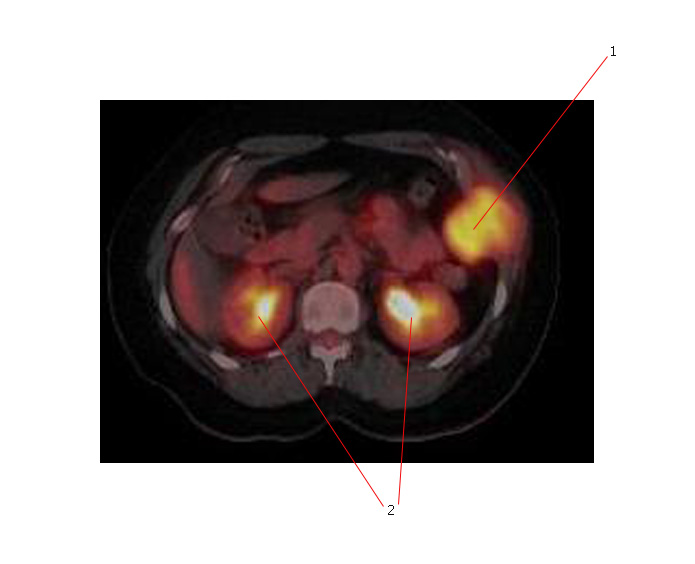 The PET scan below shows ES arising from a rib (#1) associated with metastatic axillary adenopathy (#2).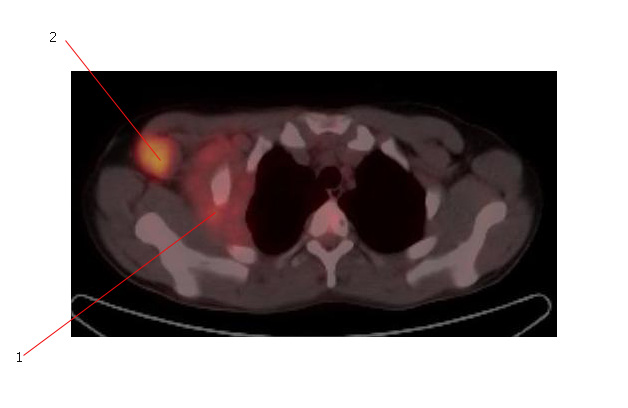 Limitations of PET scanning:
Lung nodules which are less than 1 cm in diameter may not have uptake on PET, but still be due to metastatic disease. They are usually too small for the technical capability of this scanning modality.
False positive (secondary to causes such as infection) and false negative results may rarely occur. In a recent study of pediatric sarcomas, the sensitivity of PET scanning was 86%, specificity was 80%, positive predictive value was 89%, and negative predictive value was 67%

1

.