The classic presentation of Wilms tumor is an asymptomatic abdominal mass (occurs in 90% of patients).
Quite often, the mass can be unnoticed for several months before diagnosis. The protruding abdominal mass is often discovered by parents or family members during bathing.
Symptoms can include:
Abdominal mass
Abdominal pain (in 30-40% of cases)
Hypertension (in about 25% of cases and due to increase renin activity)
Fever from tumor necrosis
Gross or microscopic hematuria (in about 20% of cases)
Anemia
Weight loss
Constipation
Nausea and vomiting
Malaise (general discomfort)
The photograph below shows unilateral abdominal protrusion secondary to a large right sided Wilms tumor just prior to surgery: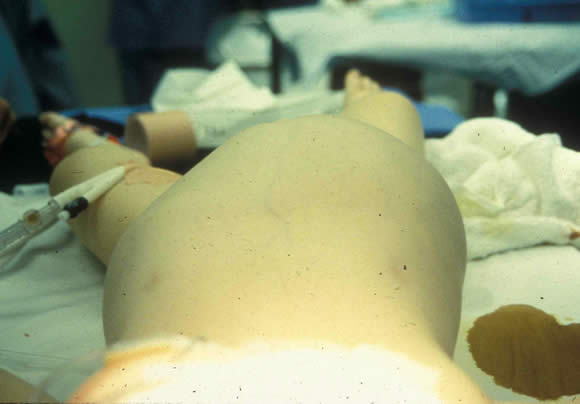 Congestive heart failure is a very rare condition in patients but it may occur due to tumor thrombi in the pulmonary arteries or severe hypertension.
Rarely the tumor may spontaneously rupture or rupture after trivial injury - causing very significant pain:
In the CT scan below, #1 points to the area where a large Wilms tumor has ruptured.