A complete history and physical examination are always the first investigations.
Links to excellent sites outlining general pediatric history and examination:
University of Arizona Pediatric History and Physical Examination
MARTINDALE'S THE "VIRTUAL" ~ MEDICAL CENTER

There may be symptoms and signs (see presentation) due to the tumor or associated raised intracranial pressure.
NB. LUMBAR PUNCTURE SHOULD NEVER BE DONE IN A PATIENT WITH SIGNS OR SYMPTOMS OF RAISED INTRACRANIAL PRESSURE.
This may precipitate herniation of the temporal uncus through the tentorium, compressing first the third nerve, then the midbrain, pons, medulla and finally the cerebellar tonsils and brain stem herniate through the foramen magnum. This can cause patient death.
Emergent CT should be done to exclude an intracranial mass lesion first
Imaging
In infants, before the fontanelle is fused, ultrasound scanning can be used to rule out intra-cranial masses.
Usually, in any child suspected of having a brain tumor, CT of the head is the first radiological investigation to rule out a brain tumor.
The CT below shows a posterior fossa mass in the region of the fourth ventricle (#1). This is a medulloblastoma.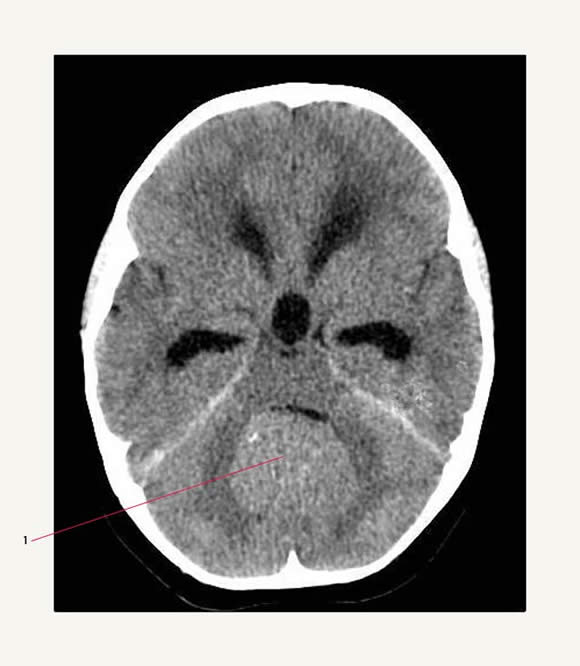 Due to increased availability and accuracy, an MR scan may be the initial investigation. Tumors are often hypointense in T1 and hyperintense in T2.

MR (below) of the same tumor as shown in the CT shows a far clearer picture of this tumor (again #1). This is an axial TSE T2 scan.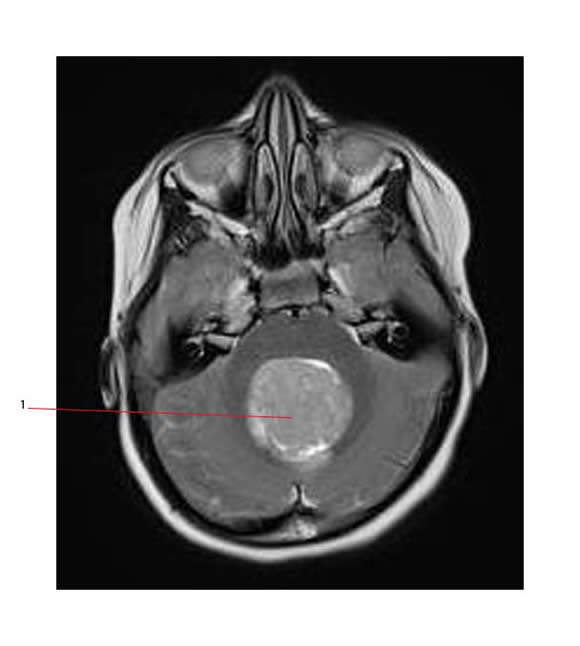 MRI with gadolinium contrast is the current standard for neuroimaging evaluation and provides highly sensitive tumour detection far superior to other imaging modality.
Tumors usually enhance with gadolinium administration and below is the axial, post gad, T1 MR image of the same tumor shown in all the previous images on this page: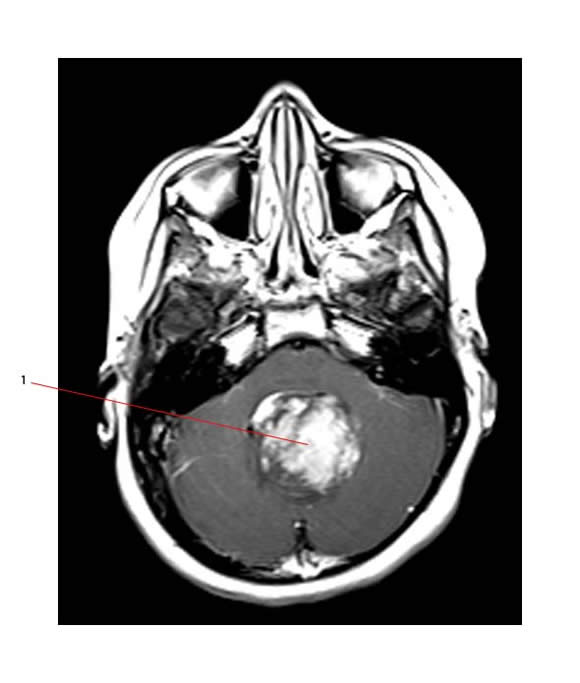 Link: