CT and MR are the current imaging techniques of choice for this tumor4,8.
CT scan
Often used as the initial diagnostic procedure
Identifies the tumor as a craniopharyngioma and provides some basic information as to its location and extent.
Common characteristics of CT images of craniopharyngiomas are3,7,8
Calcification (unenhanced CT shows this well)
Low density lesion
Cyst formation
Contrast enhancement
Sellar enlargement and erosion
MRI scan
MRI provides information delineating the relationship of the tumor to adjacent anatomic and vascular structures3,4.
Adamantanous craniopharyngiomas
Heterogeneous suprasellar masses.
Contain both solid and cystic components.
Most common diagnostic histopathologic finding is clumps of wet keratin, which often contain dystrophic calcification.
The cystic components are often well-defined, internally uniform, and hyperintense on both T1- and T2-weighted images.
Lesions often encase nearby vascular structures and have ill-defined borders.
The solid portion of the tumor is often partially calcified and is shown as a heterogeneous region.
With contrast, moderate enhancement of the solid portion of the tumor is observed, otherwise this feature can be difficult to see.
Recurrent tumors often have extensive fibrosis and signs of inflammation and adhere to adjacent structures, particularly the vascular at the base of the brain.
Below is an axial MR scan of a partially cystic and solid craniopharyngioma. #1 points to the cystic component.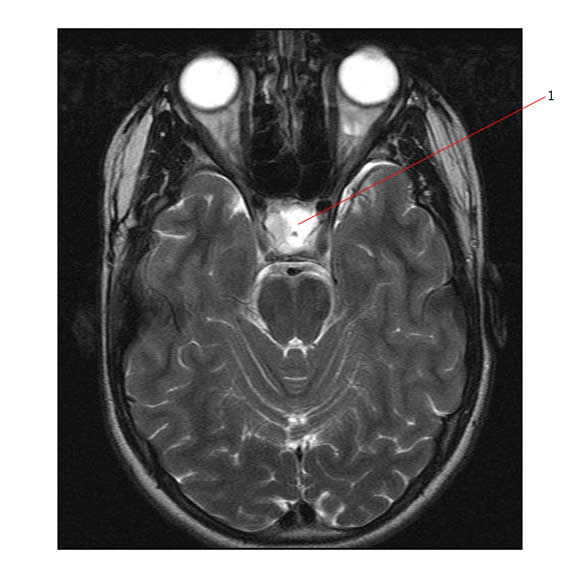 Below is the coronal view of the same tumor (again #1 points to cystic components).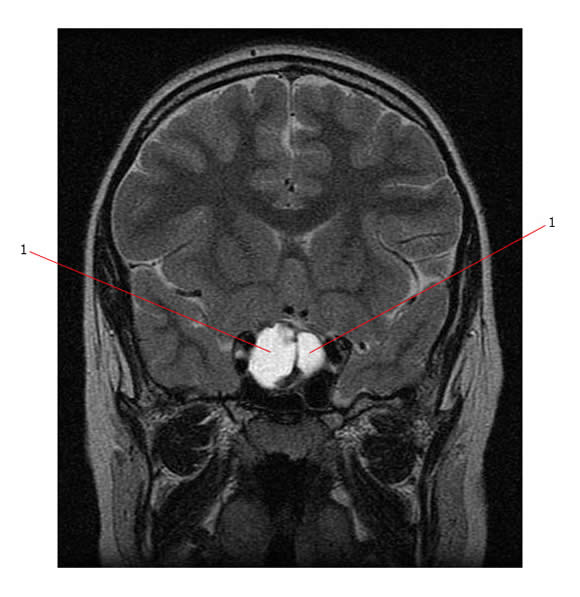 Papillary tumors
More common in adults.
Generally present as solid tumors within the 3rd ventricle, without calcification.
Often encapsulated, separated from adjacent brain.
These tumors lack much of the histopathology associated with adamantanous tumors (no cholesterol crystals within the cysts, no wet keratin nodules, fibroinflammatory tissue, or calcification). They do, however, have extensive squamous differentiation.
MR images present with solid lesions, often within the 3rd ventricle with a non-specific signal intensity pattern. No characteristic hyperintensity of T1-weighted images of the cystic component of adamantanous tumors. Like all craniopharyngiomas, these tumors typically enhance.
Comparative roles of CT and MRI for Craniopharyngiomas:
CT

MRI

Role

Identification of craniopharyngioma

Determine location and extent of tumor

Appearance

Calcification for adamantanous tumors only

Contrast enhancement in nodular regions

Heterogeneous
MRI appearance of adamantanous and papillary craniopharyngiomas:
Adamantanous

Papillary

Location

Suprasellar

3rd ventricle

Appearance

Mixed solid-cystic or predominantly cystic

Mixed solid-cystic or predominantly solid

T1-weighted image

Hyperintense

May vary depending on cystic contents

Isointense

T2-weighted image

Cystic areas appear hyperintense

Hyperintense (?)

Enhancement

Yes

Yes
Link: