Local imaging
The tumor should be imaged prior to any biopsy to accurately assess the extent of disease.
MR scan
Best imaging modality to assess the extent of a soft tissue sarcoma
Primary tumor is typically:

Well circumscribed mass within or adjacent to muscle

Assess:

Diameter of tumor
Relationship to neurovascular bundle
Characteristics
T1

Intermediate to low signal intensity, similar to adjacent muscle
Heterogenous if hemorrhage, calcification, necrosis and myxoid material present
Enhancement of solid components with gadolinium

T2

Intermediate to high signal intensity
Heterogenous if hemorrhage, calcification, necrosis and myxoid material present
T1 sequence: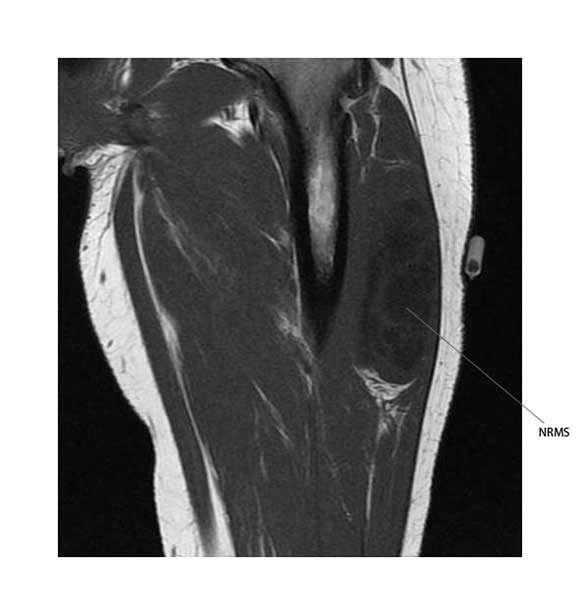 T2 sequence:
For intra-abdominal retroperitoneal and intrathoracic sarcomas, CT scan may give accurate information about the local extent of disease.
Distant metastatic disease
CT scan
To exclude distant metastatic disease in lungs
To assess possible metastatic disease to liver and abdomen for liposarcoma
CT-PET scan
FDG positron emission tomography has not been used routinely in the assessment of follow up of pediatric non-RMS.
There is evidence in adult tumors that this modality can be used as part of initial staging.
CT-PET allows high sensitivity for the detection of various sarcomas and accurate discrimination between newly diagnosed low-grade and high-grade sarcomas.
In one series over 90% of adult soft tissue sarcoma were FDG avid, but PET-CT results rarely changed managment.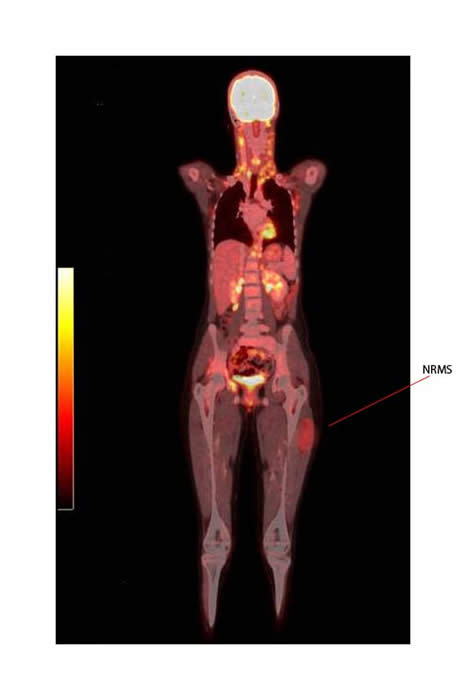 The PET-CT above shows increased uptake in a non-RMS of the thigh.
References and Resources:

FDG PET/CT in Initial Staging of Adult Soft-Tissue Sarcoma

. 
Sarcoma Volume 2012 (2012), Article ID 960194,
Eur J Nucl Med Mol Imaging. 2009 Dec;36(12):1944-51. doi: 10.1007/s00259-009-1203-0.