To match spine and cranial fields:
The collimator is rotated to match lateral head fields to spine field at the neck junction.
The light fields of the whole brain parallel pair are matched on the skin with the light fields of the superior spinal field (at about C5,6).
This is done by rotating the collimator to match the divergence of the superior spinal field.
The angle of rotation is usually about 10 degrees. In adults it is usually 17 degrees because the superior jaw is always fully open to get the necessary length. This angle is so dependent upon the height of the patient.
The light field of the inferior border of the cranial field is matched on the posterior neck surface at midline with the light field of the spinal field.
The border of the matched fields is moved at one-third and two-thirds of the total dose.
The junction is moved by 1 cm inferiorly each time.
This 'match line feathering' is used to improve the dose uniformity in the match region.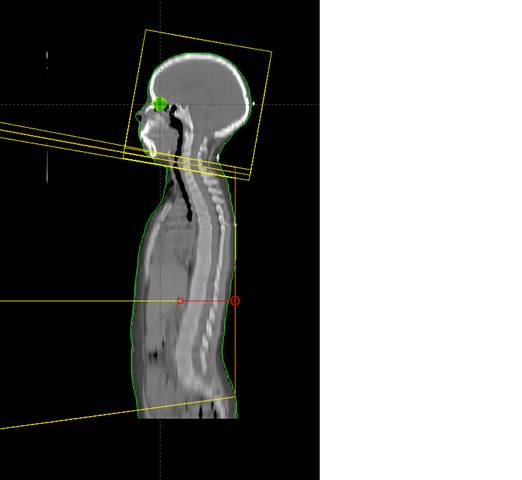 The spinal field is a SSD setup (100 SSD or 130 SSD) to the high point of the spine.
The field is moved in the superior-inferior direction to match to inferior border of the brain field at patient surface at midline
If two fields are required to cover the patient spine, a second SSD posterior spine field is added.
The divergence problem of the matched second spinal field is removed by incorporating a half beam block and the gantry is tilted to match the divergence of the superior spine field.
The gantry angle will depend on lower spinal field jaw of the first field.