Radiobiology is the study of how radiation therapy interacts with cancer cells and normal cells.
Radiotherapy damages the DNA causing double strand breaks which are un-repaired or mis-repaired. This leads to cell death.
Some tumors are very sensitive to radiation treatment, or radiosensitive - for example lymphomas and seminomas.
Some tumors are quite insensitive, or radioresistant - for example melanoma.
Lack of Oxygen (hypoxia) in the center of tumors leads to radioresistance.
Chemotherapy acts as a radiation sensitizer (makes the RT more effective) and can also make side effects from radiation more severe.
All cancer cells vary in sensitivity depending on their position in the cell cycle.
CELL CYCLE
Gap 0 (G0) = resting phase. Cells not dividing
Gap 1 (G1) = post mitotic phase. Enzymes necessary for DNA synthesis produced. Protein and RNA synthesis
Synthesis (S) = Cellular DNA duplicated
Gap 2 (G2) = premitotic phase. Precursors of mitotic spindle produced.
Mitosis (M) = Cell division in 4 step process:
prophase
metaphase
anaphase
telophase
Cells are most sensitive to radiotherapy in mitosis (M) and early in the DNA synthesis phase (S).
Cells in G2 and late S phase have the least sensitivity to radiation.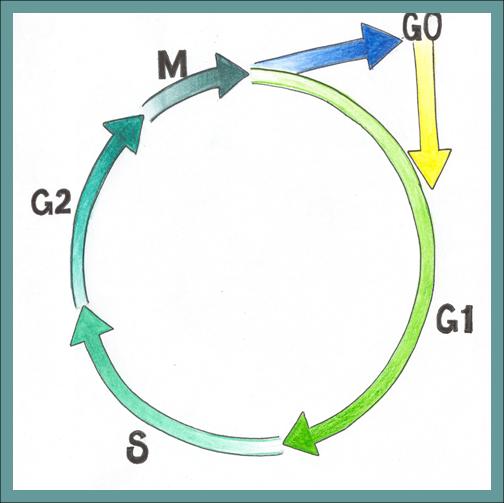 Normal tissues can repair damage from RT better than cancer cells.
Waiting at least 6 hours between radiotherapy treatments gives normal tissue the chance to repair and this is why radiation therapy is split up into small amounts or "fractions."