Spinal Cord Compression
A mass pushing on the spinal cord or cauda equina requires treatment as an emergency.
Occurs in 3 - 5% of children with cancer
Etiology
Spinal cord compression can be due to direct effects of tumor:
Epidural tumor

Commonest cause
Tumor growing from bone and pushing on spinal cord from outside (extension of a paravertebral tumor through the intervertebral foramina).
Primary or secondary

Sarcoma (commonest cause in children)
Neuroblastoma
Germ cell tumor
Lymphoma

Sub-arachnoid disease
Disease in spinal cord parenchyma (intradural - usually primary spinal cord tumor like an astrocytoma or ependymoma).
Below is a MR showing a T2 axial image of a large paraspinal Ewing sarcoma. This young boy presented with a cord compression at the level of T8. The tumor is arising from the rib and is associated with a large paraspinal mass. Disease has extended through the intervertebral foramen into the intraspinal space (#1 points to this area). The spinal cord (#2) is being compressed and pushed to one side.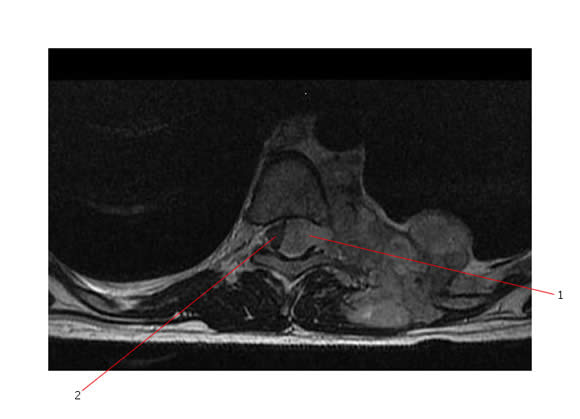 Here is a sagittal view of the same tumor (#1).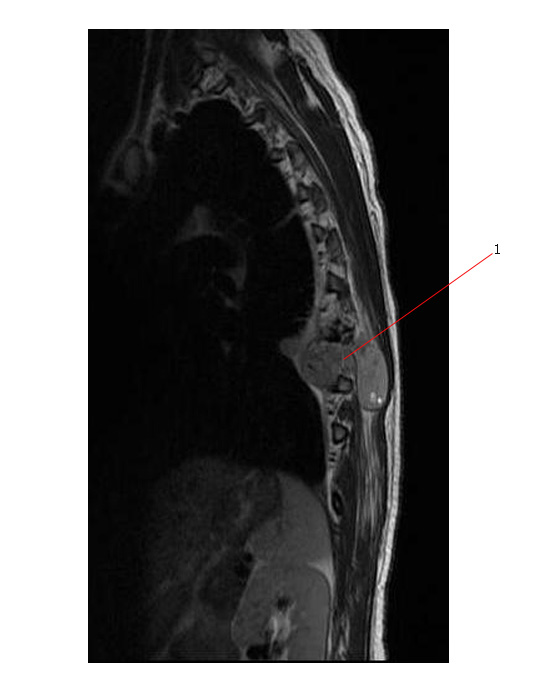 Other causes of spinal cord damage:
Vasogenic edema (tumor pushes on vertebral venous plexus).
Venous hemorrhage
Ischemia
Radiation therapy has the potential to cause myelitis as a late effect.
Symptoms:
Back Pain - usually severe and radicular
Progressive weakness leading to paralysis
Sensory loss
Loss of bowel and bladder control
ONCE NEUROLOGIC ABNORMALITIES ARE APPARENT, PARAPLEGIA OR QUADRIPLEGIA CAN RAPIDLY OCCUR AND IS NOT REVERSIBLE.
Patients who are paraplegic at the time of treatment rarely regain function.
Early diagnosis and treatment critical for neurologic recovery.
Investigation:
Detailed history and physical examination. Check for:

Sensory loss and level
Reduced strength in legs
Anal sphincter tone
Reflexes

Radiology - urgent CT or better still MR to assess location and extent of disease
CSF studies for meningeal disease
Therapy:
Initial DEXAMETHASONE 1.0 - 2.0 mg per kg ASAP to reduce edema.
Then 0.25 - 0.5 mg per kg orally every 6 hours.
Urgent decompression should be attempted with one or more of the following modalities
Local radiation therapy (RT):

Avoids surgery
May be more appropriate if there is more than one level of disease and treatment is palliative in intent

Surgery (laminectomy):

Can provide pathology for diagnosis (cause of tumour not known - decompress and obtain tissue biopsy)
Immediate decompression

Chemotherapy:

Appropriate for disease that is very sensitive to chemotherapy

lymphoma
neuroblastoma
leukemia
Ewings sarcoma