Action
Chemotherapy indiscriminately kills rapidly dividing cells.
Malignant cells have limited ability to repair themselves when injured.
Normal cells are more successful at repair
Bone marrow
Epidermal cells
Epithelial cells lining the Gastrointestinal tract (GI), oropharynx
Hair follicles
Antineoplastic agents are designed to kill rapidly dividing cells
Based on concepts of:
Cellular kinetics and cell life cycle
Cell cycle time
Growth fraction
Tumor burden
CELL LIFE CYCLE
Gap 0 (G0) = Resting phase. Cells not dividing. Some cells spend little or no time in G0 (eg. epithelial cells, malignant cells)
Gap 1 (G1) = Post mitotic phase. Enzymes necessary for DNA synthesis produced. Protein and RNA synthesis occurs. Time span highly variable, which accounts for the differences in cell-doubling times for different types of cells.
Synthesis (S) = Cellular DNA duplicated
Gap 2 (G2) = Premitotic phase. Precursors of mitotic spindle produced.
Mitosis (M) = Cell division in 4 step process
Prophase
Metaphase
Anaphase
Telophase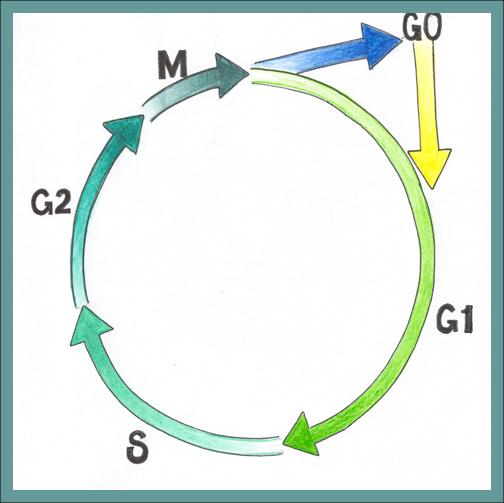 CELL CYCLE TIME
Amount of time required for cell to move from one mitosis to another.
Length of total cell cycle varies with specific type of cell
Length of time spent in G0 varies
Shorter cell cycle time results in higher cell kill
CELL KILL HYPOTHESIS
Small percentage of cells killed with each chemotherapy cycle
Ultimately only a few cells remain which the immune system destroys
Rationale for multiple cycles of chemotherapy
TUMOR GROWTH FRACTION/ TUMOR BURDEN
Growth fraction = Percentage of cells actively dividing at a given point in time
Higher growth fraction results in a higher cell kill with cell cycle specific agents
Higher number in G0 will be more sensitive to cell cycle non-specific agents
Tumor burden = Number of cells present in a tumor
Cancers with small tumor burden more responsive to therapy
A high tumor cell burden leads to drug resistance